Vinpower's line of Pro Duplicator Optical Disc Drives (ODD) are readily available Globally!
Now that fewer personal computers come standard with optical disc drives (ODD), there are fewer and fewer manufacturers producing them. The ODD manufacturers that remain are putting less resources into maintaining the drives and are actively trying to cost down on the components used to build those drives. These factors inevitably lead to lower quality drives with a shorter life span. That's why Vinpower has worked diligently over the years to provide our own lines of professional series Half Height Optical Disc Drives, featuring the Plextor, Optiarc, and Piodata series. Each of these drives were developed to have greater compatibility, reliability, and longevity, compared to the standard off the shelf ODD's currently on the market. These drives are perfect for building your own duplicators, replacing drives on older systems, such as manual towers, autoloaders, and publishing systems, regardless of the manufacturer, and for use with computers and high scale servers.
Now that you know these drives exist and would be the perfect solution for your needs, the next question is inevitably where can I find them to purchase? Fortunately, these drives are readily available in most countries around the world. They are available in North and South America, throughout Europe and Asia, including Australia. The drives are also readily available through Amazon in the US, Canada, Germany, Spain, France, Italy, and the UK, which in addition to Vinpower's distributors & resellers can service customers in nearly every country.
Don't settle for subpar drives that may look cheaper, but end up costing you far more money in the long run due to shorter lifespan and inconsistencies in the burn quality, which create numerous bad burns. Instead, you can easily and quickly order any one of Vinpower's professional line of ODD to ensure the job will get done right the first time without downtime for a defective or overheated drive.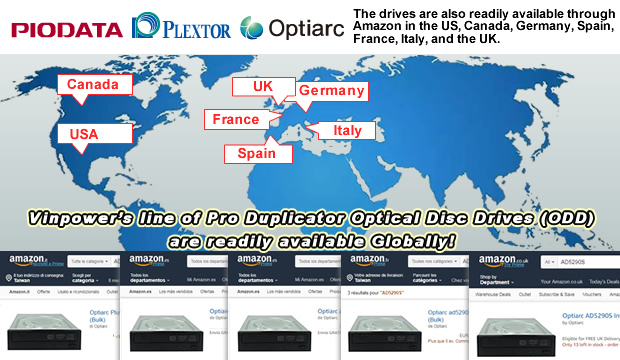 Product of the Week

PioData DVR-S21DBK Optical Disc Drive

Piodata is an offshoot of a major optical disc drive (ODD) manufacturer catering to the duplication market. With the numbers of manufacturers for the common ODD used in optical disc duplicators decreasing, Piodata has remained. Piodata filled the gap as the key tier 1 Japanese ODD factory decided to exit the market. The Piodata DVR-S21DBK is readily available and remains focused on the important global duplication market.