Don't take any chances, OptoDisc Blu-ray media is fully licensed by One Blue.
Vinpower's full line of Blu-ray media is fully compliant as an official One Blue licensee. In the past, the patent holders for CD and DVD recordable media were only interested in securing media royalties from the original manufacturers. So even if a product was unlicensed, the buyer/user was not required to pay the license fee. That is no longer the case with Blu-ray. Today, regardless of whether you are the manufacturer or the buyer, either can be responsible for paying the royalty amount for the full quantity of Blu-ray media they sold or purchased. That means that unsuspecting businesses or individuals could be hit with substantial royalty fees that comes as a result of purchasing and using unlicensed Blu-ray media.
So don't get caught with substantial fees or a potential lawsuit from the One Blue organization by purchasing Blu-ray media from an unlicensed company. Protect yourself and your customers from the burden of potential harassment and/or legal consequences by working with Vinpower and know that you have officially licensed and royalty paid high quality duplication grade media.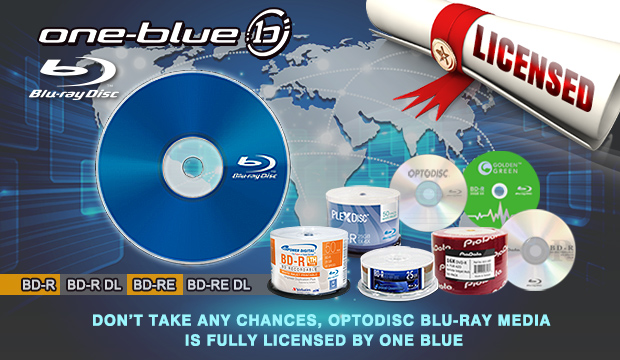 Product of the Week

OptoDisc is not a brand, but instead it's the technology and method behind many popular brands of recordable optical disc media currently on the market. OptoDisc media are manufactured under a strict quality control process to ensure that each batch of discs offer the highest quality and reliability, but also consistency between every batch. This ensures that every shipment of OptoDisc manufactured recordable media will give the same performance and burning quality as previous orders. The best way to identify if your discs are produced under the Optodisc manufacturer lines is to view the bottom of the disc and look for the "OPTODISC" name embedded just above the inner hub.
If your media doesn't have the visible "OPTODISC" marking on the recording side of the disc, then your discs was not manufactured by OptoDisc and cannot be assured the same top quality and reliability OptoDisc provides.